LERUM ASPEN ROTARYKLUBB - LARK,
Change, renewal and younger members. Those were the goals when the club was started in 2008.

Today we are around 70 members with an avarage age of 55 years and just as many women as men.

Rotary is open for men and women in all kinds of professions all over the world.

We are running global projects against poverty and pro health, and among them the worlds largest campaign against polio.

In our club we are supporting both global and local projects. Locally we are arranging sailing camps for disabled teenagers and supporting a women center in Kenya.

Rotary gives you the possibility to involve yourself in the society, grow as an individual, net working, and helping others.

Feel free to contact us for further information.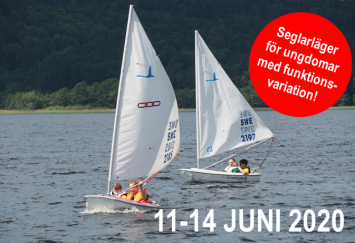 SAILING ON EQUAL TERMS, a non-profit sailing camp directed to youths with disabilities in the ages of 16-20 years old. The camp is performed at Lake Aspen in Lerum, Sweden for one week in the summer during the day, 4-6 hours per day.

The founder of the camp is Lerum Aspen Rotary Klubb (LARK) in collaboration with Lerum Sailing Association (LESS), Lions in Lerum, Lerum Rotaryklubb, local Scout movement and Municipality of Lerum. Among sponsors are Preventus AB, Ahlséns Foto AB, Autoadapt AB and Volvo Ocean Race.

Facts about the Camp:
SAILING ON EQUAL TERMS first camp was held in 2009 and was a great success. All partners involved decided to develop the project as an ongoing camp, each year.

SAILING ON EQUAL TERMS aims to:

Encourage friendship for all youths involved, both participants and leaders
Promote personal development and positive mindset
Provide an opportunity to try out sailing on the same conditions as others

15-20 youths are welcome to participate and will be guided by 30-35 young leaders and 6 sailing instructors.
Adult leaders are always present in supervisory roles, regarding safety, meal and activities.

Young leaders, with or without sailing skills, between the ages of 16-21 are recruited primarily from the Municipality of Lerum and Dergårdsgymnasiet. Youths with sailing skills are also recruited as Sailing instructors from LESS and other sailing associations. All leaders are trained in safety and first aid, in order to ensure the quality of the sailing camp. There are 2 leaders per participant, in addition to sailing instructors on shore and in escort boats.

Participants may be physical or mental disabled, whether due to an injury, illness or inherent from birth. The disability can affect eyes, ears, other parts of the body, or mental ability.

Inspiration for the sailing camp is Vinterskogslägret (Winter Forest Camp), a camp for children with disabilities, managed by the Lions Club Lerum and supported by the local Scout movement. Vinterskogslägret has been active for more than 47 years.
Many girls in Kenya, as in many other poor countries of Africa and Asia, the girls stay at home during their menstrual period.
As a consequence they lose a quarter of their time in school and sometimes the even drop out of school entirely.

Lerum Aspen Rotary Club are heading and runs the project "Ruby Cup in LungaLunga" by offering and donating a so called HSQ-kit which stands for Health, Saftey and Quality.

The HSQ-kit consists of menstrual cup, boiling bowl, sterilization tablets and a guideline of hygienic usage together with proper education.

The aim of the education is importance of a good personal hygiene, to inform and discuss what happens in a young woman's body when she reaches the age of puberty. The project enables the women to a more every day and independent life, offering an opportunity to fulfill their time in school without interruptions, bringing their level of education to the same level as for the boys.

We cooperate in all aspects with the women center Nikumbuke in Kenya and Ruby Cup.

The menstrual cup promotes gender equality, health and education together with less environmental stress as the waste decrease.

The money is raised by the sales of fabric bags sewn by the women in LungaLunga, other incomes are through contributions, gifts and other activities.

For more information please contact us on, rubycup@lerumaspenrk.se